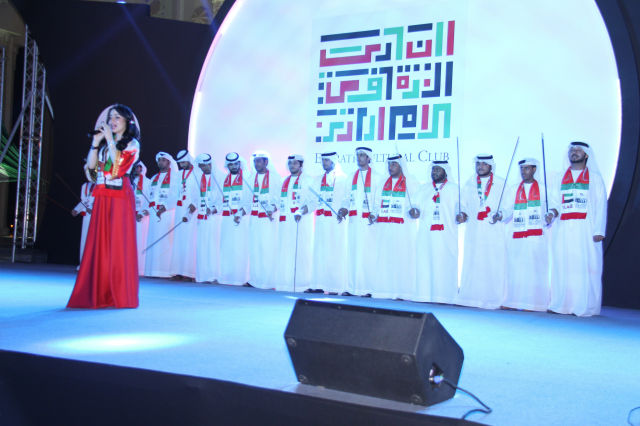 An Event with over 4000 Visitors in 3 days at the American University of Sharjah was one of the most exclusive event organised by the EMIRATI CULTURAL CLUB and Produced and Managed by Max Events Dubai, An Event Management company. Our Scope of work included the following:
Stage Design
Floor Plan
Sound
Lights
Traditional Tents.
PRESS RELEASE
Sharjah Deputy Ruler attends UAE National Day celebrations at AUS
November 26, 2014
Sheikh Abdullah Bin Salem Al Qassimi, Deputy Ruler of Sharjah, recently attended celebrations held at American University of Sharjah (AUS) to commemorate the country's 43rd National Day. The festivities marked the beginning of a three-day series of events organized by students of the university's Emirati Cultural Club as well as the AUS Office of Student Affairs. The event featured various aspects of the rich Emirati culture and heritage.
The opening was also attended by Sheikh Salem Bin Abdul Rahman Bin Salem Al Qassimi, Chairman of the Sharjah Ruler's Office, as well as AUS Chancellor Dr. Björn Kjerfve and other senior university officials.
The university's main plaza played host to an Emirati heritage village, which consisted of a photo gallery that featured paintings of His Highness Sheikh Zayed Bin Sultan Al Nahyan as the driving force behind the success and development of the UAE. The heritage village also included a display of traditional artifacts such as perfumes and jewelry, local cuisine, and on-stage performances that included singers, poets, and traditional dances.
The plaza was decorated with Emirati flags and light beams representing the colors of the UAE flag, as Emirati songs played in the background.
"The celebrations on campus dedicated to UAE National Day have grown bigger and better year after year," said Dr. Moza Al Shehhi, Vice Chancellor for Student Affairs. "Last year, the Emirati Cultural Club won the UAE National Day Outstanding Club Celebrations Award for the Educational Institution Category awarded by the UAE General Authority of Youth and Sports Welfare. This year, our students are working hard to retain the title and to promote the university's support towards the nationwide celebrations for this auspicious occasion. I thank the Emirati Cultural Club and the OSA staff for their efforts and contributions towards the success of our celebrations on campus.
Hamad Al Ketbi, President of the Emirati Cultural Club, said: "We, the Emirati Cultural Club, are here to celebrate the 43rd UAE National Day with love, loyalty and patriotism. The event is spread over three days this year in an effort to promote our national identity to the more than 90 nationalities present at AUS."
"I think it is a great event," said Hamda Rashid, a sophomore majoring in Design Management. "We love the idea and it is a big step especially after last year's recognition of the Emirati Cultural Club."
This slideshow requires JavaScript.